PIANO REFINISHING,RESTORATION AND REBUILDING ARE ALL DONE ON SITE AT OUR FACILITY.  WE WILL MAKE YOUR HEIRLOOM PIANO PLAY AND LOOK LIKE NEW.  FROM THE LIVING ROOM PIANO TO THE CONCERT GRAND WE CAN PERFORM YOUR NEEDED SERVICE.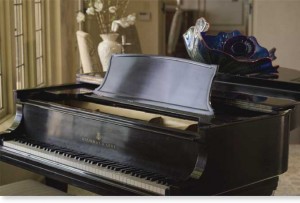 Antique Restoration
Do you have a prized heirloom that is looking the worse for wear? A loveseat with a broken leg or an antique hopechest that has been damaged by water? Whether you need new parts custom-made or restoration to save treasured pieces of furniture, Martin Furniture Refinishers can help. Our expert craftsmen will bring your piece back to life, using careful and meticulous techniques that utilize as much of the existing antique materials, and keep your piece as authentic as possible.
You will love our standard finishing practices, all at no extra charge!
We always finish the interior of cabinets this includes finishing drawer interiors with a clean clear finish.  No more paper lining your drawer boxes.
We always finish the outside backs of cabinets and dressers.  Just because they face the wall does not mean they should be dirty, stain blotched and unkept.
We always  finish the bottom of chair seats.  Your furniture should look new when it is done.  That is what we pride our selves on.  Not just a clean up.
We always Clean, Polish or Finish the hardware on your item.  This is our final process and it is essential in making your furniture look great!