Specializing in Antique Restoration Since 1978
1600 West West Maple, Suite A, Walled Lake, Michigan 48390
248.624.3080 office        248.624.5750 fax
Learn More
Hand Polishing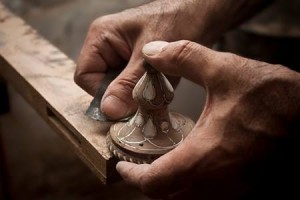 If your furniture looks dull, due to years of build up from wax and polish, and the finish is still in good condition, (not cracking, chipping or dried out), then a hand polishing might be in order. Spray on products such as Endust and Pledge will shine your furniture for about 48 hours and then they will have completely evaporated. This is exactly what you don,t want to happen. Sun light, liquids and oxidation can cause damage to the finish of any furniture. The wax that is applied in the hand finishing is the best line of defense against these harsh eliminates. The wax can take the abuse and then be replaced with a new protective coat, thus protecting the furniture,s finish. This is why our hand polishing is so much better for your furniture than any spray on product or wax such as Butchers or Johnson,s. This time-consuming process will remove dirt and oil, and dissolve old wax build-up, leaving a durable, lustrous hand-rubbed finish. Most old scratches and nicks can be blended away with this service. A hand-polishing every year will help keep your furnishings and antiques in top condition.
Hand Stripping and Refinishing
Some pieces of furniture are too far gone to be polished and need a full re-finishing. The old finish is cracking or "alligatored where it is so old and dried out that it looks like an alligator,s back. This old wax and finish must be completely removed and new stain applied. After staining a new finish is applied. Another reason for the going through this process is to change the piece,s color or to remove a coat of paint that was applied to it. Furniture that is undergoing the refinishing process will need to be picked up and done in our furniture shop.
We can also make repairs to your furniture while it is with us or replace a broken piece, as well as furnish and install new hardware.
Some of the Most Commonly Asked  Questions and Answers about Wood Furniture
I have an old piece of furniture that I recently acquired. It is very dark, and I want to make it lighter, can you do this?
Yes we can, and your request is very common. We can remove the old finish, taking the furniture down to the natural wood, re-stain it and then apply a brand new finish that will show off the wood,s natural beauty.
How can I tell if my furniture needs a hand-polishing oar a complete re-finishing?
Take your fingernail and run it over the surface. If you are able to scrape the surface, the piece will need re-finishing. The other way to tell is to look closely at the surface to see if it is cracking and has a rough texture, like the skin on an alligator,s back. If it does, then it definitely needs to be re-finished.
I have a very nice piece of antique furniture and it needs repair. How do I go about making sure that the restoration will enhance its value?
The proper repair of antique furniture is essential to maintaining and enhancing its value, but it has to be done with care. Our craftsmen are trained in the techniques and history of furniture restoration and will ensure that your piece will receive the treatment it needs.